Correct & Boost
Epionce Correct & Boost products help smooth skin texture, clear pores and reduce the visible appearance of imperfections.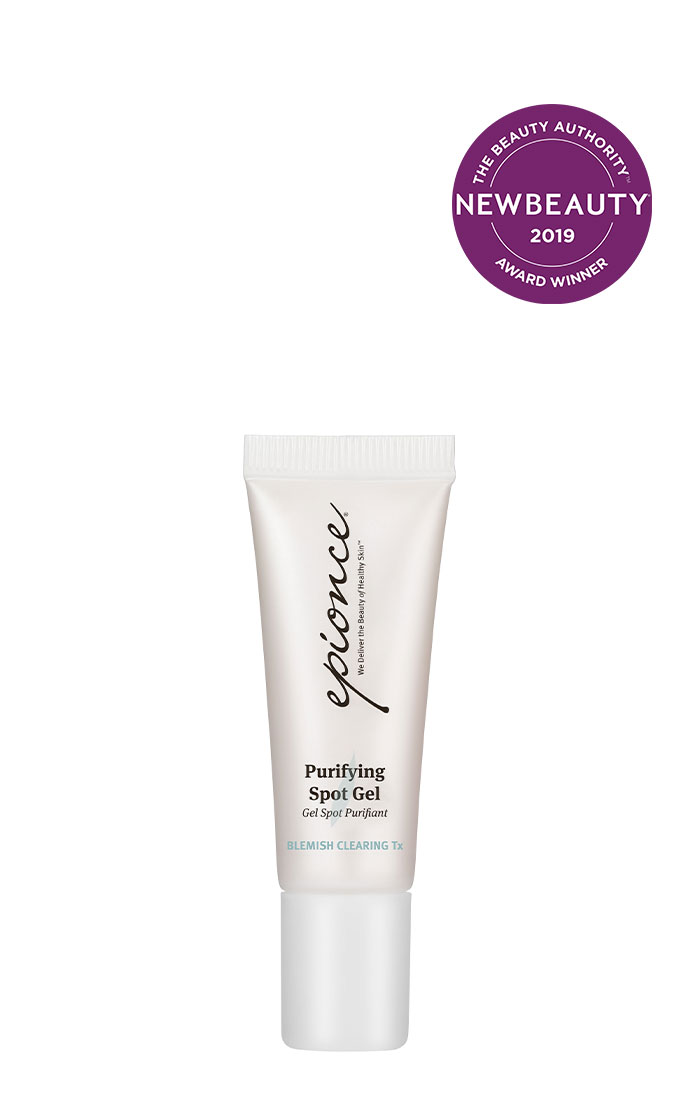 Purifying Spot Gel
0.34 fl oz | All Skin Types
$40.00
Clinically proven spot treatment rapidly targets stubborn acne blemishes on the face and body. Penetrates pores to control acne blemishes and help prevent new acne blemishes from forming. Use with Purifying Wash for best results.
Won NewBeauty Magazine Beauty Choice Award for "Best Acne Spot Treatment."
Key Benefits
For the treatment of acne
Helps clear acne blemishes
Penetrates pores to control acne blemishes
Helps prevent new acne blemishes from forming
Powerful ingredients proven to treat acne blemishes without dryness or irritation
How to Use
Clean the skin thoroughly before applying this product. Dab a thin layer to affected areas one to three time daily or as directed. Do not use on large areas of the skin.
Other Important Information
Warnings: For external use only. When using this product skin irritation and dryness is more likely to occur if you use another topical acne medication at the same time. If irritation occurs, use only one topical acne medication at a time. Apply only to areas with acne. Rinse right away with water if it gets in eyes. Do not use on broken skin or large areas of the skin. Stop use and ask a doctor if skin irritation occurs or gets worse. Keep out of reach of children. If product is swallowed, get medical help or contact a Poison Control Center right away. Directions: Because excessive drying of the skin may occur, start with one application daily, then gradually increase to two or three times daily if needed or as directed by a doctor. If bothersome dryness or peeling occurs, reduce application to once a day or every other day.
Paraben-free l Sulfate-free l Not Tested on Animals
Active Ingredient: Sulfur 3.3%
Inactive Ingredients: Acacia, Azelaic Acid, Butylene Glycol, Caprylyl Glycol, Coconut Oil, Ethylhexylglycerin, Glycerin, Helianthus Annuus Flowering Top, Hexylene Glycol, Hydroxyethyl Acrylate/Sodium Acryloyldimethyl Taurate Copolymer (100000 MPA.S AT 1.5%), Levomenthol, Medium-Chain Triglycerides, Mentha Spicata Oil, Orange Oil, Paprika, Phenoxyethanol, Pyrithione Zinc, Quercetin, Resorcinol Monoacetate, Rice Bran, Rosemary, Safflower Oil, Tocopherol, Water.
My husband used this once and told me to buy three more...this isn't the usual acne spot cream. Definitely very effective and a little goes a long way!
The [Purifying] Spot Gel helped with big blemishes. I saw the pimples shrink overnight.
I was given this spot treatment regimen when cystic acne popped up on my chest during CrossFit. I was shocked after just one day of using it my acne started to disappear and I haven't had an issue since!
I have struggled with acne my whole life. It has been most frustrating now that I'm an adult as my skin is sensitive and current acne products tend to be too harsh. My acne is painful and seems to take forever to clear up. Using Purifying Spot Gel has changed the way I handle those breakouts. My acne is hardly recognizable by two days and completely gone within four days!