Correct & Boost
Epionce Correct & Boost products help smooth skin texture, clear pores and reduce the visible appearance of imperfections.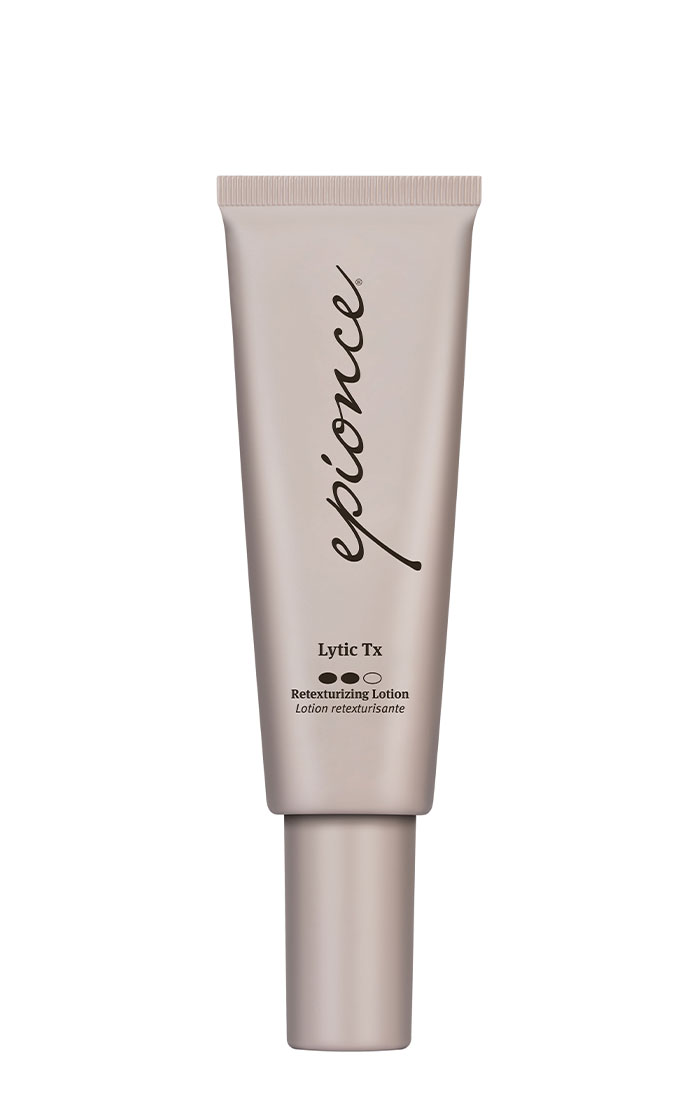 Lytic Tx
40 ml (1.4 fl oz) | Normal to Combination Skin
?
$56.00
NEW LOOK, but same formula inside! Lytic Tx is a moderate-strength product that helps cleanse pores while smoothing the visible appearance of skin texture and imperfections. Daily use helps reduce irritation associated with blemishes and redness. Lytic Tx products are clinically proven to reduce the visible appearance of aging and skin unevenness when used in conjunction with Epionce Renewal facial products. 
Key Benefits
Helps reduce redness and problem skin
Visibly improves the appearance of imperfections
Smooths skin texture and tone
How to Use
Apply to clean skin. For best results, wait 5-7 minutes before applying other products.
Paraben-Free | Sulfate-Free | Not Tested on Animals
Water, Butylene Glycol, PPG-2 Myristyl Ether Propionate, Salix Alba (Willow) Bark Extract, Salicylic Acid, C13-14 Isoparaffin, Laureth-7, Polyacrylamide, Cetearyl Alcohol, Trisiloxane, Limnanthes Alba (Meadowfoam) Seed Oil, Azelaic Acid, C10-30 Cholesterol/Lanosterol Esters, Citrus Aurantium Dulcis (Orange) Peel Oil, Citrus Limon (Lemon) Peel Oil, Cymbopogon Citratus Leaf/Stem Oil, Ethylene Brassylate, Glycerin, Glyceryl Stearate, Lavandula Hybrida (Lavandin) Oil, Linalool, Linalyl Acetate, Linum Usitatissimum (Linseed) Seed Oil, Litsea Cubeba Fruit Oil, Octanal, Olea Europaea (Olive) Fruit Oil, PEG-100 Stearate, Persea Gratissima (Avocado) Oil, Petrolatum, Phenoxyethanol, Phytosterols, Polysorbate 60, Sodium Hyaluronate, Sodium Hydroxide, Zinc Pyrithione.
I've suffered from breakouts for about 6 years now...and Epionce has SAVED my skin. I've seen countless dermatologists and aestheticians, taking blood tests, and using every treatment known to anyone. Until finally I came across Epionce products and I haven't looked back since! I incorporated the Lytic Gel Cleanser and Lytic Tx and I don't need anything else for clear skin. Thank you so much!!!
Lytic is life! I've brought so many of my [breakout] clients back to normal and no irritation. I also swear by it for my redness.
Just wanted to say how much I love Epionce. I have never felt good about my skin, and have never tried products that actually did what they promised. It's always been a struggle dealing with congested, clogged pores... When a dermatologist suggested products from Epionce, it totally changed the game. I love the Lytic Gel Cleanser, the Lytic TX, and the Renewal Lite Facial Lotion. These products have changed my oily, congested skin into a glowy, clear complexion. I have stopped skin picking altogether because my skin is so clear there's nothing to pick! Thank you for exceptional, life-changing products. I'm so happy I found Epionce.
I am forever amazed at the outstanding results I continue to see in my clients. The Lytic Tx and Renewals - "The Dynamic Duo" - have worked wonders in my clients. I'm so pleased to be partnered with this outstanding company. Dr. Thornfeldt is a genius and has pioneered a skincare company driven by results that achieve healthy skin!
[The Lytic Tx provided] immediate relief from inflamed, irritated skin. I struggled for days with redness on my face, my pores looked large, skin was tired, looked unhealthy. I got a sample at a plastic surgeon`s office and it calmed everything down like 70 percent the very first time I used it! Nothing ever worked that quickly and that well. Within 2 days my skin was beautiful, healthy, pores were hugely improved, it really worked amazingly!

I am using the LyticTx and Intensive Nourishing Cream every single day and am really loving them! I'm noticing a difference in the texture and clarity of my skin. What I especially love is that I do not have any irritation or negative reaction at all! A nice change compared to retinol!
I love Lytic and Intense Defense Serum! After using it for a couple of months, my skin looked years younger. I had a client ask me if I had a face lift.  
There is a Lytic product appropriate for every skin type and skin issue. It exfoliates, deep cleans the pores, helps with blemishes and brightens the skin with no drama!  We can sell with confidence to every client that walks in the door. Everyone needs a little Lytic in their life!